Would you like to get acquainted with Belarusian women, but you are not yet ready for the standard matchmaking process? Let's do a Party then!
Lockdown Party is an online single dating party where you can meet the ladies from our agency.
WHEN? We had Lockdown Parties already on the 27th of February, 6th of March, and 20th of March 2021. The date of the next party is not yet set, but if you would like to participate in that format, please fill in the form below. We will let you know about the next date.
Most probably it'll be on Saturday, 9 p.m. Minsk – 8 p.m. Berlin – 2 p.m. New York – 4 a.m. Melbourne
The main language of the Lockdown party will be English.
In order to avoid wasting time on translation, we invite only English-speaking women!
WHERE? Online, in Zoom. You will get the link to join in advance. Before the Lockdown party, there will be a test connection in zoom to settle the camera and mic, in order to be sure everything is perfect.
HOW LONG? The approximate time is 2 hours. But we can prolong the party if the conversation is really interesting.
WITH WHOM? I invite there the English-speaking ladies from our agency. There will be 20-25 ladies from the agency
Here are just some reviews after the Party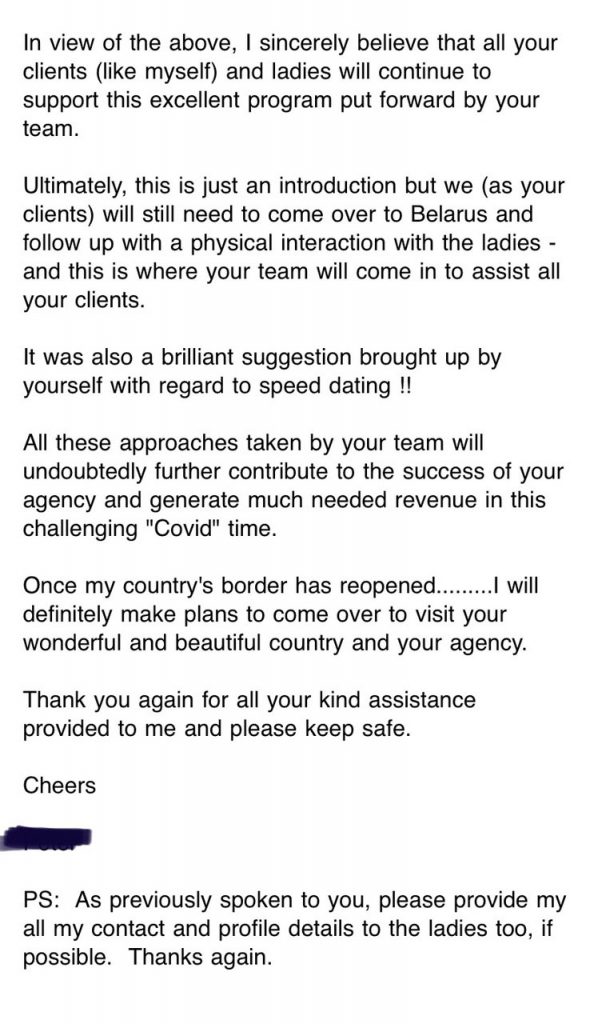 PRICE? the price is 30 Euro. You will have the possibility to present yourself, to see the self-presentation of the ladies, to ask questions. At the end, you get the contact information of all the ladies that were at the party, as well as the ladies get your contact information. Contacts of 20-25 women from the agency for only 30 Euro? That already sounds amazing! But Party is also a possibility to see them live, to talk to them, see their reaction. It's 2-2.5 hours of good mood, laugh, and communication with people all over the world.
If you would like to join our Lockdown Party, please fill in the form below. As soon as we set up the date, we send you the link for payment. (or you can make the payment right away and you will have your place guaranteed. Do not wait too long, according to the previous Parties the places are sold out already 1 week in advance.