When you are planning a trip to Minsk to meet some ladies, you are sure to be curious (or maybe a little nervous) about how the meetings will go. We want you to feel confident and comfortable during the whole process, so here we are to throw some light on what is expecting you in Minsk.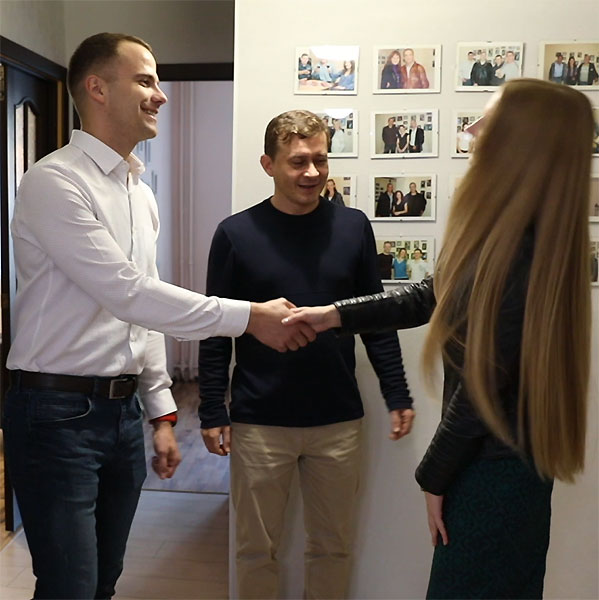 What?
We offer a unique opportunity to speak face-to-face with a lady you liked by her online profile. You can tell her the most essential things about yourself and ask her the questions that matter to you. In this way you will see if you share some interests, values, opinions. What is even more important, you will understand if there is mutual attraction – this very special love chemistry which can unite your hearts and become the basis for the most precious relationship ever.
Where?
Now there are 3 possibilities:
Video date. Now you can start getting acquainted with the ladies online. The meeting can be organized via Skype, Whatsapp, Viber, Zoom. We do not charge for the time of the meeting, we charge for organization of the meeting. In average the video date lasts 40-60 minutes. After the meeting you get the direct contact information of the lady and you can continue communicating directly.
Meeting at the agency If you come in person to Belarus, the most reasonable variant is to arrange the meetings at the agency. The first meeting takes place in our office: we have separate rooms where you can talk over a cup of tea or coffee.
However, we consider our way to be better for a number of reasons:
There is no risk that someone will get lost in the city
You do not have to stay together for much time in case you feel at once that you are not at all compatible
You may be sure that a lady comes to get acquainted with you and not just to enjoy a meal or a drink in a lovely place.
If you like each other, you can ask the girl out right after you meet her in our agency, you are not obliged to stay here for any certain time.
Meeting at the cafe Sometimes our clients tell us they would prefer a more romantic setting – a fashionable restaurant or cozy cafe. In that case, we arrange the date in the place chosen by you.
When?
In case of the video meeting we select time comfortable for both sides.
If you come to Minsk we will organize the meetings about a week in advance before your arrival and send you the schedule. The planning will depend mostly on the time availability of the girls. Weekends are the best time, as the ladies can come to meet you any time of the day, while on weekdays, as a rule, the meetings can be organized in the evenings.
You can tell us your wishes about the desirable order of meetings and we will try to follow it, if possible.
How long?
1 meeting lasts 1-1.5 hour on average. The duration of a meeting is not limited, though: it depends on the time that you both have at your disposition, if the conversation goes well, if you like each other etc.
How many?
The number of meetings per day depends on the plans and working schedule of the ladies. On average, there can be 1-3 meetings on a weekday, and up to 8 meetings on a weekend. In total, you can have as many meeting as you wish, depending on the time period you stay in Minsk, the number of positive answers and if you yourself will be comfortable with them. Normally, our clients have 5-10 meetings.
..and then?
After the first meeting you have the contacts of the lady – and your real impression of her. If you have a positive feeling – go for it! Start talking with her on messengers. If time permits, invite her for a walk, a meal or any other activity that may interest you both. Now it is up to you two to build up your relationship from the first mutual attraction to deep affection and love.
For our part, we will be glad to assist you with our advice whenever you need it.
A few tips for a successful meeting:
do not tell the ladies how many meetings you have or make comments about other women you have met here. Our ladies are well aware of the fact that if a man comes to Minsk, he normally has more than one meeting and they are OK with that. However, you should not bring up the topic, unless she asks you directly about it. (In this case you do not have to tell lies, of course, but try not to go into details, either)
the better you look, the better impression you can produce 🙂 However, do not dress up especially for the occasion, as you should look natural and give a real image of yourself. The only advice is that your style should be neither too formal, nor too casual.
do not bring any expensive gifts for the first meeting. If you want to make a pleasant surprise for the lady, choose a small box of chocolates or some flowers (importantly, an odd number!).